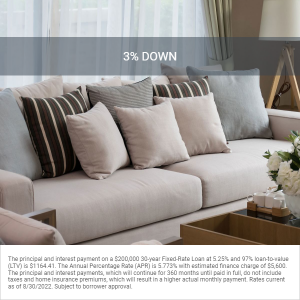 ---
If you've ever wondered what the difference is between a 3% down conventional loan and a 3.5% FHA loan, please see the at-a-glance chart below. These are the main differences between the 2 loans. For more information, please give us a call 949-254-4721, anytime!
---
Conventional Financing
FHA Financing
At least 1 borrower must be first time home buyer (or haven't owned in past 3 years)
Yes
No
Minimum Down Payment
3%
3.5%
Max Loan Amount by County (Non Jumbo)
$715,000-
$1,073,000
$715,000-
$1,073,000
Property
Primary
Residence
Primary Residence
Max Loan-to-Value (LTV)
97%
96.5%
Minimum FICO score
620
580
Up Front MI Payment
No
Yes
Monthly MI Payment
Yes
Yes
Interested in purchasing a home?
If you'd like to see if you qualify for either of our low down payment loans,
call 949-254-4721 or Pre-Qualify today!